LeafTech Protection System is the best and final solution to your gutter cleaning problem.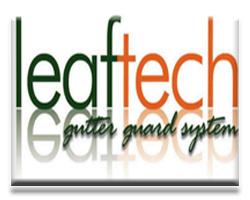 No More Clogged gutters...

Climbing ladders...

Excellent for all roofs...
The Leaf Tech has a very unique feature. It consists of a built-in hood and louvers. This is the most effective gutter cover system in the market.
As water flows of the roof, louvers slow down the flow of water at the first step then at the second step, the built-in hood lets the water flow through invisible holes.
The Leaf Tech is the only gutter protection system that offers these two features in one product.
On the Other hand, The Leaf Tech Clip design is a kind of water diverter never let dirt from washing down the face of the gutter. This adds to beauty to your home and increases your home value.
Reasonable and affordable price.
Easy to install Eliminate the dangers of cleaning gutters and risking injury to clean your gutter.
Nothing enters into the gutter except rain water.
Protects your walls, foundation and basement from gutter overflow.
Protects against ice build-up
The Leaf Tech clip design eliminates dirty looking gutters and keeps the face of the gutter clean.
Fits over existing gutters  No brackets or hangers
Prevents mosquitoes from breeding
Keeps birds and squirrels out of gutters.
Available in 21 Colors and Copper to match your gutter color.
Increase your home value and add beauty to your home.
Performance warranty for the life of the building
Available for 5" , 6" K and Half Round Gutters.